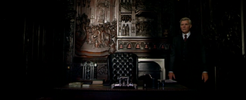 Corvadt Ltd. is the pharmaceutical mega-corporation that is the Network's primary front organization. It is a biological sciences company with many child companies, headquartered at the Corvadt Building in London. It primarily produces vaccines, but has also been seen to be involved in various other epidemiological and health sciences pursuits, such as being the primary body involved with managing the outbreak of SARS (which they fabricated.)
Its CEO is Conran Letts, though he is a figurehead taking most of his orders from his assistant. After the deaths of Letts and the Assistant, Corvadt is bought out by the Crown and Michael Dugdale placed as Acting CEO.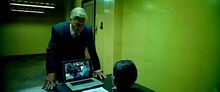 The Corvadt Building is a major location in the series, and it is a grandiose skyscraper with a marble-floored lobby and mahogany-panelled offices. It is shown to contain research labs and underground detention cells, as well as stairwells and interior halls and passageways.
Community content is available under
CC-BY-SA
unless otherwise noted.